Write the first paragraph of your page here.
Series 1=
Edit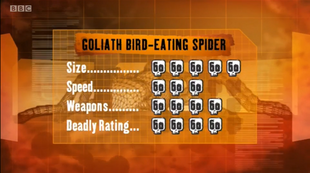 The biggest spider in the world. A monster that doesn't only eat crickets and cockroaches, but mice, frogs, lizards and yes even birds. The Goliath bird eating spider, Deadly.
Pole to pole=
Edit
VICIOUS VENOM INJECTORS: 2 cm long fangs,
SUPER SIZED: reaching the size of a dinner plate,
HEAVYWEIGHT HUNTER: powerful enough to catch and birds,
the Goliath bird eating spider is a unparalleled arachnid.